News, Events, and Flying
---
Volunteers over 18 years old are needed for the Discovery Elementary Delta Dart build and Air Show on August 4th, 10:00am to 12:00pm and 1:00pm to 3:00pm. You may also bring airplanes for display. Each volunteer must go to the following website and click on Register. Follow the website instructions to fill out all the forms by July 15th. For more information, please contact Randy Ling.
---
Volunteers are needed for the 2017 AMA Cub Build on July 22nd at the Maple Valley Kids Festival. Help setup and assist kids of all ages build 300 or more AMA Cubs. 2016 AMA Cub Build at Maple Valley Kids Festival
---
The 4th annual Marymoor R/C Club Sport Scale Contest is Saturday July 15th, 9 am to 4 pm at Marymoor Park in Redmond, Wa. See Park Map for event location.
This is a relaxed version of serious scale events, requiring minimal documentation, stand-off judging, and a primary emphasis on prototypical flight characteristics. The $10 landing fee includes a barbeque lunch and a chance to win cash prizes for 1st thru 3rd place. More details are here .
---
Lake Sawyer Hawks Open House on August 5th. Soft Drinks and Pizza will be provide by the club. A fun day of flying and talking about radio control model aircraft; 9:00am to 4:00pm.
---
Exhibitors needed for Museum of Flight Radio Control Model Exhibition on November 25, 2017.
---
DX9 For Sale - See For Sale
---
New Float Fly Rules - Download rules here or get a copy at the next Float Fly. You must agree and sign the current rules to participate. (April 2017)
---
Membership Renewal and New Members - Now is the time to join or renew your membership for 2017. All members must have AMA membership, FAA registration and sign a copy of the Membership Application (recently updated) each year. The preferred method to renew or join the Hawks is to pay your fee via PayPal at this address: rc.hawks.treasurer@gmail.com using "Send money to friends and family" to avoid the Hawks paying a service charge. (1-3-17)
Please print, fill out and sign the Membership Application form EACH year completely. Please scan (preferred scan is to PDF file) the signed forms and email them to rc.hawks.treasurer@gmail.com. Note: Stickers are no longer required!
If you do not have PayPal you may mail a check payable to Lake Sawyer Hawks and your signed forms to Gabe Hanzeli at 31735 224th PL SE Black Diamond, WA 98010. No cash payments will be accepted by mail or at the meetings. (12-12-16)
If you do not have a PayPal account, create a PayPal account at https://www.paypal.com/. In PayPal link your bank account. In PayPal load the account from your bank account with enough money to pay your fees. It usually takes 3 to 5 days for your PayPal account to load. Then in PayPal pay the fees to rc.hawks.treasurer@gmail.com using "Send money to friends and family" to avoid the Hawks paying a service charge. (1-3-17)
Note: Only AMA membership, and FAA UAS number along with owners name and contact information, and agreeing to sign the attendance list and follow the Float Site Rules are required to fly at the Float Fly site (Ferdinand Boat Launch) on Lake Washington. (2-7-16)
---
AMA Membership - All members that fly at our field, Marlow Anderson R/C Airfield (MARCA) and Float Fly site MUST have a valid AMA membership card. AMA membership renewal is required every year. AMA membership runs from Jan 1 to Dec 31. If you do not have a valid AMA membership, stop flying until receiving one. A park flyer membership is NOT VALID at the field. (12-3-16)
---
FliteTest Sea Duck built by Randyl B. at a recent Float Fly (2-27-17)
---
Restoration of B-29 DOC Thanks for the link Gerald and Dave! (2-27-17)
---
Latest Spektrum Transmitter Chart
Thanks to freechip on RC Groups for this explanation of DX6 and DX6e differences: The "real difference" is that the DX6e is a DX6i replacement while the DX6 is a DX9 with fewer channels and a couple less functions. Which means it has antenna diversity, WireLess Trainer functions and Voice Alerts.
What the DX6e has going for it is the new Stick Mode Switch that with a single slide of this switch you can easily change modes BUT more importantly you can have your Throttle Stick spring loaded center. Making it handy for those airplane pilots that want regular stick action and then toggle to spring load the throttle stick for multirotor flying. (some like the spring throttle for MR flying. (1-15-17)
---
Current Sound Level Limits - As of August 3, 2016, King County Use Agreement allows a maximum sound level of 85 dB at 25 feet on exhaust side of gas/glow model. (10-15-16)
---
Sound Levels and Model Airplanes - Both of our flying sites are leased from city and county governments. We have agreed to limit sound levels at both sites and are bound by lease agreements to follow these rules. To minimize impact on our hobby and keep our flying sites, Randy Ling has perpared a document to help explain how we can attain sound levels at or below the limits. Please take the time to read "Sound at the Field" and contact Randy if you have any questions.
---
Flying hours:
All Aircraft Limited to 85 dB or less Sound Level at 25 feet:

Monday, Wednesday, Friday, Saturday, 9:00 am to 5:00 pm

All Electric Aircraft UNDER 79 dB Sound Level at 25 feet:
---
46 gram Indoor Flyer built by Don P. Video by Brian L. This incredible aircraft built entirely from small carbon fiber rounds and very light components and materials.
---
Model Airplane Identification - Because our Float Fly site and Marlow Anderson R/C Airfield are AMA approved flying sites, you must have your plane identified with your AMA and FAA number. We also suggest your name and contact information in case your plane is found. You can register on the FAA website. Get more information at: UAS Registration Q&A.
This requirement covers all remotely-controlled model aircraft, helicopters and multicopters weighing more than 250 grams (~8.8 ounces) flown outdoors. You will be asked to agree that you will limit all flight operations to 400 feet or less. You only need to register once, but put the FAA registration number on every model airplane that you fly. (2-18-16)
---
Making a foam wing from Depron sheet for the Pelican or other aircraft using the Kline-Fogleman airfoil? See KF Airfoil RCGroups Forum Theory of KF Airfoils
---
Recent Photos and Videos
February 13 Marlow Anderson R/C Airfield
---
Safety Note: See Safety Page for photos of fire extinguisher locations at Marlow Anderson R/C Airfield (MARCA). Also note requirements for gasoline powered models. (9-29-14)
---
Please be sure to sign-in and out at the field and at the lake so the county and city see how these resources are being utilized. This will ensure continued support and retention of these valuable resources necessary for our sport. Please observe all the Field or Float Site rules when you fly as some rules are mandated by the county and city. (1-11-12)
---
Indoor Flying Site - for small electric planes and helicopters. Every Friday afternoon from 12:30 to 3:30 PM at the SeaTac Community Center. 13735 24th Ave S, SeaTac, WA Cost is $3.75 or $2.75 for seniors. (1-5-12)
---
City of SeaTac Park Flyer Site - For "Park Flyer" designated airplanes and helicopters. Electric power only, maximum of 2 pounds and less than 60 mph. AMA membership not required. Open 7 days a week at 3000 S. 150th St., SeaTac, WA . There are setup tables and an astro-turf runway that works well with small landing gear wheels. (1-5-12)
---
Old News is Here
6080 on 3/1/2016
2016 Museum of Flight R/C Model Exhibit Sampler
Website testpage using HTML5 & CSS3: Contact Us
Photo Gallery Test Page Page created with HTML5 and CSS3 and includes a new dropdown navigation bar. Problems? Comments? Let me know what Operating System and Browser (version) you are using. (5-29-17)
Please report website issues to Web Apprentice
Sponsors
Shop at these local businesses that sponsor the
Lake Sawyer Hawks
---
Tell Joe you saw his business on
Lake Sawyer Hawks' website
Thank you RC Hobbies, Covington for supporting the 2016 AMA Cub Build at Maple Valley Kids Festival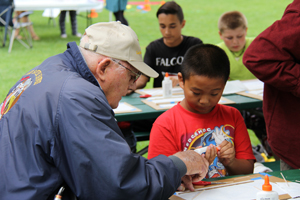 Click Photo for YouTube Video of AMA Cub Build
2017 AMA Cub Build is July 22nd
---
Visit AMA's website for Plans and merchandise
---
---
---
---
Photos from 2016 Open House (Peter M.)
April Meeting: Donated deHaviland Beaver Auction
FliteTest Sea Duck (Randyl B.)
FliteTest Sportster (David M.)
Knat (1992) - Design using foam board. (Charlie G.)